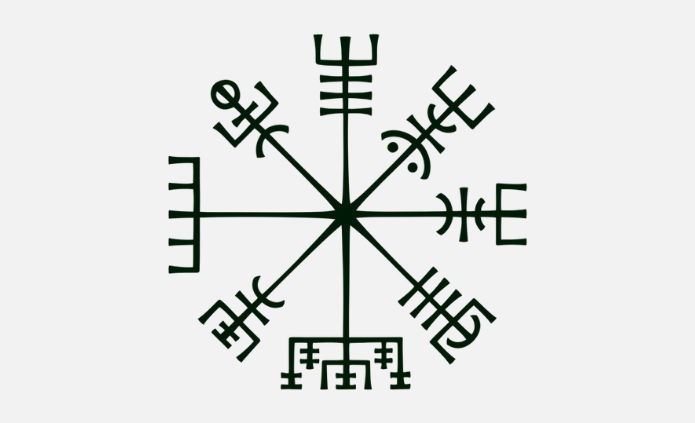 This is the Vegvísir.
It is an old Norse symbol, similar to a rune. It was discovered in the Huld Manuscript but is said to be of much earlier origin. In Icelandic, the word means Wayfinder. 
The Vegvísir promises that its bearer will navigate safely through stormy conditions. A magical stave, the Huld Manuscript declares of the Vegvísir that "if this sign is carried, one will never lose one's way in storms or bad weather, even when the way is not known".
We can feel like we are within a storm, inside and outside our ourselves, or even that we are this storm. It can take courage and a willingness to go deep within, but although we may feel daunted by the magnitude of the journey that we are facing, once we begin we can see that the process is nothing like as complex as it first appears. We discover that this storm is the perfect storm with precisely the right conditions for transformation. We may realise that a guide is needed to help navigate your inner landscape, your soul-terrain. The outcome is likely to be beyond anything you can currently imagine. 
To heal trauma I welcome all resources and exclude nothing, modern or ancient, as the soul's journey home is as mystical as it is psychological. The Vegvísir can be a valuable companion.

https://danielburge.com/wp-content/uploads/2017/11/vegvisir-1.png
962
695
https://danielburge.com/wp-content/uploads/2020/09/DANIEL-BURGE-header-b.png
2020-08-03 09:10:05
2021-04-17 22:56:42
The Vegvísir